Serious barbecuers know the value of a good old offset smoker. Nothing can beat a thoroughly smoked steak or burger. But that's only possible if you have yourself the best offset smoker.
This article will not only cover offset smoker reviews but will also give you the information you need to buy the right one. Why? If you buy something low-quality, it could leak smoke, beating the main purpose. After all, offset smokers are all about delivering all that fragrant smoke to the food.
Our Top 5 Offset Smokers for 2023 Reviews
We've handpicked five of the best offset smokers, with each bringing something unique to the table. You'll easily find something that meets your needs and doesn't exceed your budget.
1. Oklahoma Joe's Longhorn Reverse Flow Smoker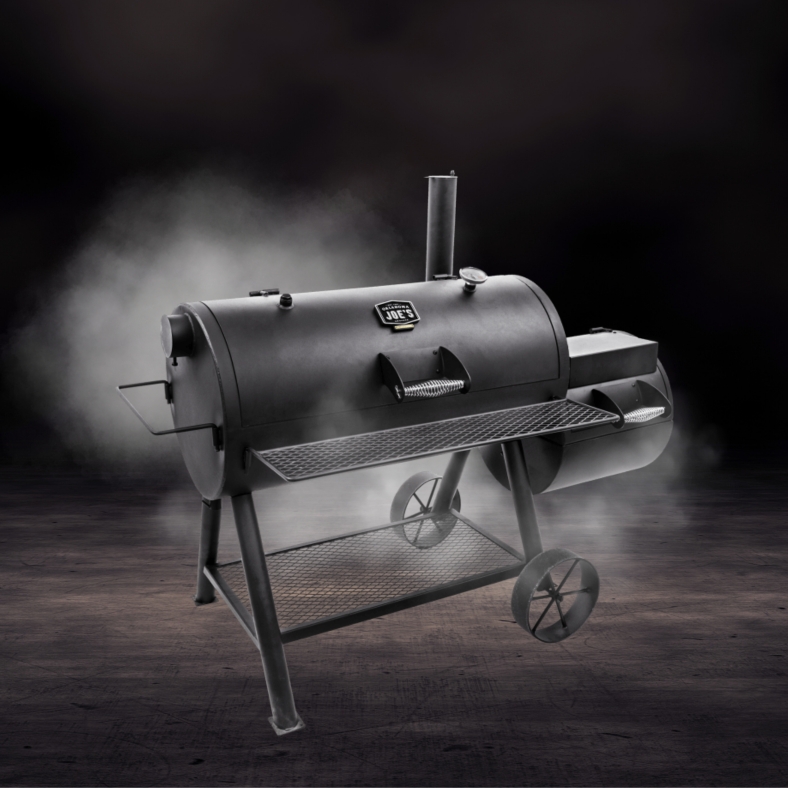 The Oklahoma Joe's Longhorn Reverse Flow Smoker is perhaps the best offset smoker that money can buy. Yes, your money can buy you more expensive offset smokers, but this one packs in a lot of features without a hugely exorbitant price tag. With a 1060 sq. inches of cooking area, this smoker is great for throwing barbeques for family and friends.
This area also includes 309 sq. inches of the firebox chamber, which can double as a cooking or warming rack with the provided grill. What's best about this particular model is its reverse flow technology that helps deliver equal heat and smoke to the food. It uses four baffles to guide the smoke to the main cooking chamber.
Moreover, it's built of high-quality, heavy-gauge steel, which helps it maintain the right temperature. It comes with four porcelain-coated grates. Then you have dampers to control the smoke. The fuel basket in the firebox is made of stainless steel.
Plus, it has an ash collection door that makes it easy to clean the firebox. While it weighs about 226 pounds, you can wheel it around thanks to the large steel wheels.
The grills in the front and at the bottom provide a nice workstation to keep your condiments and utensils. A coiled cool-touch handle on the cover not only adds convenience but also looks great. Oklahoma Joe is a company that knows its way around making a great grill and smoker for Texas-style barbecues, and that certainly shows with this beauty.
Pros
Even heat distribution
Large cooking area
Large bottom shelf
Easy to clean
Great value for money
Cons
Assembly is time-consuming
2. Oklahoma Joe's Highland Offset Smoker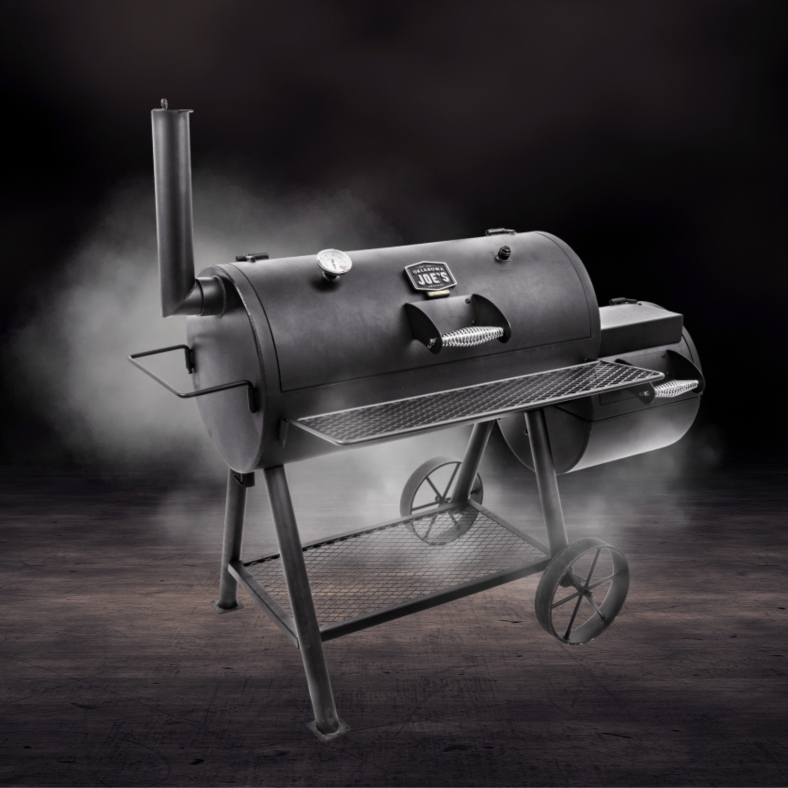 The Oklahoma Joe's Highland Offset Smoker is pretty similar to our top pick with few major differences. First off, it doesn't have the reverse flow option, so the smoke escapes the traditional way. It does make up for that with an integrated thermometer on the cover.
The cooking area on this one is 900 sq. inches, combining both the main cooking area and the firebox grill (281 sq. inches). In terms of design and materials, it's again very similar to the Longhorn one.
You have a heavy-gauge steel body with cart-style large wheels and two shelves for convenient preparation. The firebox has a door on top for adding more wood or removing for that matter.
But it also has a smaller door at the bottom for removing ash. Similarly, the porcelain-coated grates are easy to clean. At 176 pounds, it's a little lighter, and with the wheels, you shouldn't have any issues carrying it in and out. The all-black look of the smoker is a mix of vintage and contemporary styles, giving you the best of both.
Pros
High-quality construction
Decent cooking area
Convenient workstation shelves
Heat and smoke control
3. Oklahoma Joe's Charcoal/LP Gas/Smoker Combo
For those looking for a multipurpose smoker, the Oklahoma Joe's Charcoal/LP Gas/Smoker combination is a good option. It adds a charcoal chimney burner and gas grilling chamber with the firebox for smoking wood.
The cooking area is divided into three sections: main cooking surface, gas grilling chamber, and firebox, which also has grates for cooking.
The main two chambers provide a cooking area of 750 sq. inches, while the firebox adds another 310 sq. inches. With three burners, the gas chamber can provide a maximum of 12,000 BTU.
This chamber can come in handy for your normal stove operations, so you can cook a variety of dishes on the same appliance. Then you also have a charcoal chimney starter with an additional 12,000 BTU. While the cooking chamber has dampers for smoke and heat control, this one also has one in the firebox.
The grates are made of cast iron and coated with porcelain that ensures less food residue and easy clean-up. There are six grates that go into the chambers.
Both chamber lids are fitted with thermometers, so you don't have to use any insertable thermometers. However, you could use those for even more accurate readings of the meat.
This one has a very contemporary design, complete with a bottom shelf with a rack and space for placing the gas tank. Even after so many versatile features, this smoker combo weighs 200 pounds. You can move it around with its big steel wheels. Each lid has its own ergonomic, cool-touch handle for easy operation.
Pros
Multipurpose cooking
Large cooking area
Easy smoke and heat control
Storage shelf
Built-in temperature gauges
Cons
A bit pricey
Not so easy assembly
4. Dyna-Glo Signature Series DGSS1382VCS-D Heavy-Duty Vertical Offset Charcoal Smoker & Grill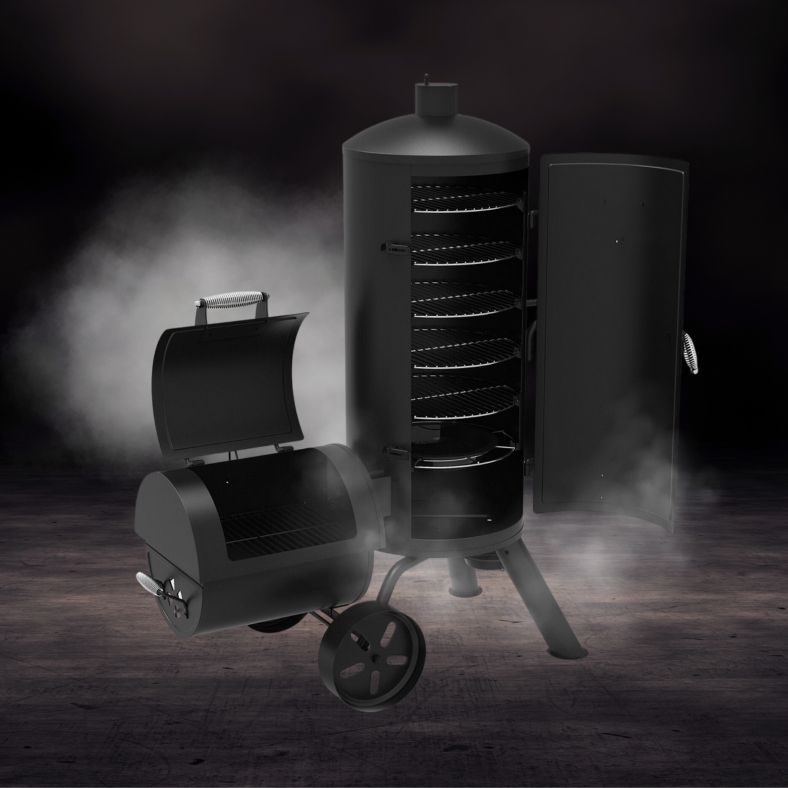 Dyna-Glo is a well-known manufacturer of cooking and grilling equipment. So this list couldn't be complete without a smoker from this maker.
Its Dyna-Glo Signature Series Vertical Offset Charcoal Smoker and Grill is a unique product, made with heavy-gauge steel in a black finish. This one features a vertical chamber with five chrome-plated grates stacked on each other.
The door opens horizontally, giving easy access to the grates. When all five grates are combined, the cooking area comes to 1382 sq. inches, which is pretty generous.
The top of the chamber has sausage hooks, so you can make hot dogs and sausages as well. It provides intuitive cooking with its integrated temperature gauge that not just tells the temperature but also indicates the right smoke zone for the right flavor.
For beginners, that's a helpful feature for cooking some delicious meat with just the right amount of that tantalizing smoky flavor. This Dyna-Glo smoker grill is comparatively lightweight, coming in at just 124.3 pounds. It's also super easy to move with its large steel wheels.
The firebox/offset has a removable charcoal grill and ash pan that make clean-up a breeze. Just slide out the tray and empty out the ash in a trash can.
Pros
Efficient use of cooking area
Lightweight
Multiple grates
Easy temperature and smoke control
5. Dyna-Glo DGO1176BDC-D Vertical Offset Charcoal Smoker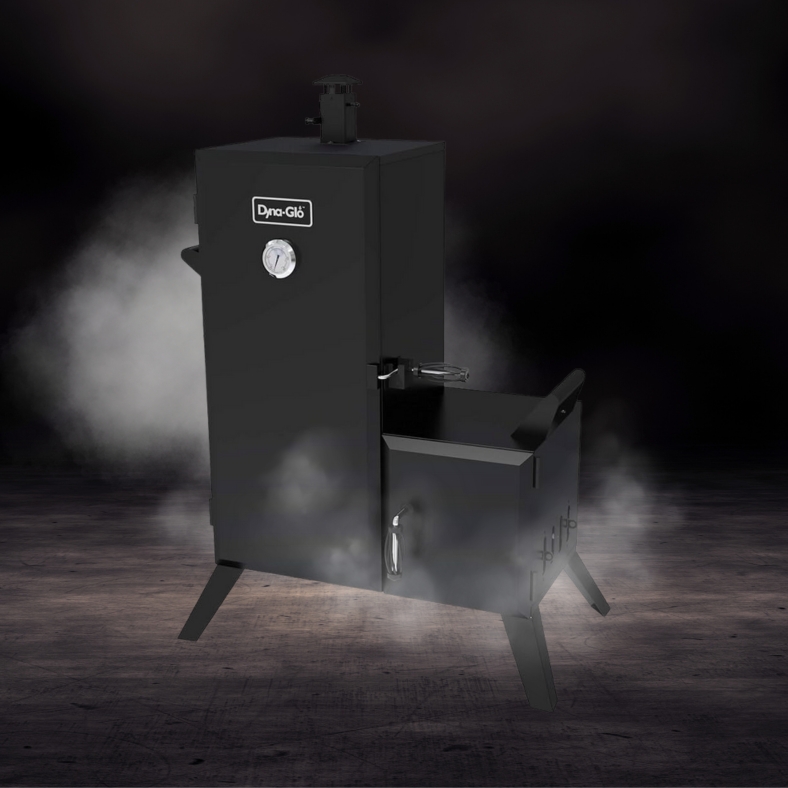 The Dyna-Glo O1176BDC-D Vertical Offset Charcoal Smoker is best for those looking for a compact, space-efficient smoker. As its name indicates, it's a vertical smoker with grates stacked in the chamber. It offers a whopping 1176 sq. inches of cooking space with 784 sq.
Inches of smoke area. The charcoal chamber has a porcelain coating that ensures that maximum burning efficiency is obtained from the charcoal.
The six square-shaped steel grates are easily accessible with the lid and its handle. The lid/door features a built-in stainless steel thermometer with a smoke profile called Smoke Zone. For clean-up, it does use an efficient ash collection method.
The removable ash pan will make your life so much easier after the barbeque is done and guests are gone. No heavy cleaning required right after.
The heat and smoke gradually get to the grates, thanks to its vertical design. As a result, the rather natural heating delivers a more smokey flavor. Besides its grilling strengths, its design is the highlight.
It weighs just 57 pounds, which is good because it doesn't have wheels. You will need to either drag it or lift it up with another person when you want to move it.
It does give a lot of control to the user, especially with the adjustable flue on top. If you're one of those people who are very finicky about the cooking conditions, you'll love these little features.
Pros
Good burn efficiency
Space-efficient design
Decent cooking/grilling area
Easy temperature control
Types of Offset Smokers
A smoker has a large chamber for burning wood or charcoal called a firebox or offset. While this smoking feature is standard in all smokers, the design and mechanism can vary. Here are the main types of offset smokers:
Stick Burners or Horizontal Offset Smokers
Stick burners exclusively rely on wood sticks for fuel. The wood burns in the firebox and provides heat and smoke. These are often made with heavy-duty materials.
This type of smoker requires a lot of attention as the wood burns. You need to manually control the heat and smoke.
Vertical Offset Smokers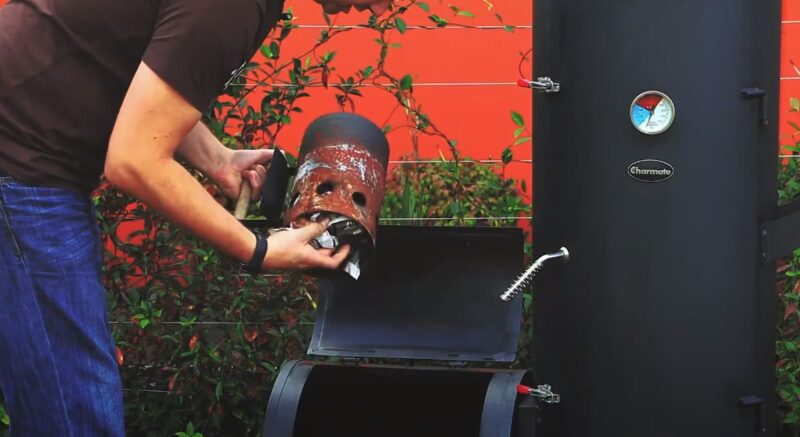 The vertical offset smokers feature a vertical drum or box instead of a traditional horizontal one. Instead of one single level of grates or cooking surface, the vertical drum has several layers of grates.
That allows it to add more cooking area while simultaneously reducing the floor space it requires. In terms of operation, vertical smokers work the same way as horizontal ones. They take smoke and heat through a firebox adjacent to the cooking chamber and have a chimney or vent.
Charcoal Smokers
Charcoal smokers, as the name indicates, burn charcoal for heating and smoke. As compared with stick burners, these are fairly easy to control with dampers. People also add wood chips for flavor, sometimes along with charcoal.
Gas Smokers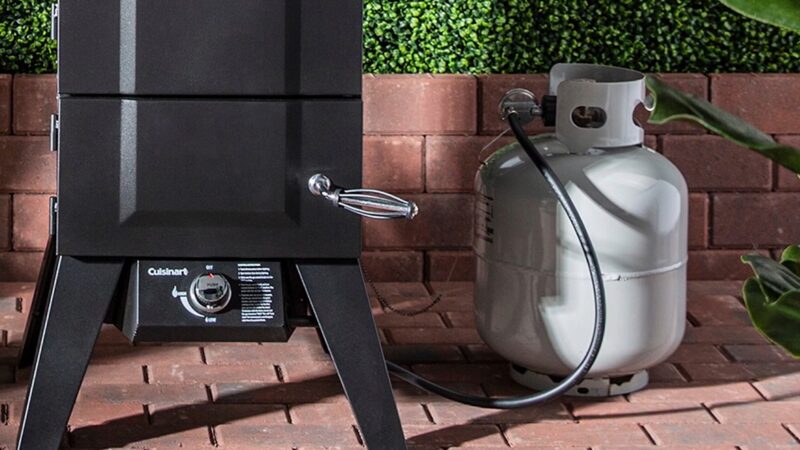 Gas smokers rely on gas for heat. However, they also require wood chips to create smoke, but that's only for flavor, not for the heat. These smokers typically use propane or LP tanks for fuel.
Box Smokers
Box smokers are simpler in design with the fuel source (wood or charcoal) directly beneath the grates. It reduces the overall size of the smoker, as there's no separate firebox. So it's not technically an offset smoker but provides a good alternative instead.
How to Use an Offset Smoker
A traditional offset smoker requires a little more effort on your part. Using an offset smoker is not like using water or an electric smoker that you can just set and forget. It does require a little hands-on approach, but that's what makes it fun too. Here's a step by step guide:
Step 1: Start the Fire
Fill the firebox with some coals and start the fire with a chimney starter. If it has an ignition system, use that to heat the coals. When the coals start burning, you can add wood. Wood generally takes longer to ignite, so starting with charcoal is a better option.
Step 2: Get the Right Temperature
If your smoker has a built-in temperature gauge, you can use that to get to the right temperature. Otherwise, use a thermometer. Once the cooking chamber is at the desired temperature, leave the vent flap open one-third and the chimney half-open. Add more wood as needed to get the temperature higher.
Step 3: Add the Food
Now that the cooking temperature is at the right temperature, you can carefully place your food on the grates. Shut the lid and let the food cook.
Step 4: Check Fire Every 30 Minutes
It requires active fire management, so check the fire every 30 minutes to see if it requires more logs. Also, check the temperature in the cooking chamber every 15 minutes.
Tips
Here are some additional tips that will help you when using an offset smoker:
Don't open the lid again and again as the heat and smoke will escape.
Make sure to check the weather beforehand before starting a fire in the smoker.
Move the meat from one side to another, as the temperature can differ inside the chamber, no matter how much the company claims the smoker provides even heat.
Also, check the temperature in the chimney using a digital thermometer.
FAQs
What is the primary advantage of using an offset smoker?
The primary advantage of using an offset smoker is its ability to provide authentic, smoky flavor to the food. The separate firebox allows for direct heat control, ensuring even cooking.
How often should I clean my offset smoker?
It's recommended to clean your offset smoker after every use. Regular cleaning prevents ash buildup and ensures efficient burning and smoke flow.
Can I use an offset smoker in rainy or cold weather?
Yes, but it might require more fuel to maintain the desired temperature. It's also essential to protect the smoker from direct rain to prevent rusting.
Is it safe to leave an offset smoker unattended?
No. Offset smokers require regular attention to maintain temperature and smoke levels. Leaving it unattended can lead to temperature spikes or dips, affecting the cooking process.
Can I use different types of wood in my offset smoker?
Yes, different woods like hickory, apple, cherry, and mesquite can be used to impart unique flavors to the food.
Conclusion
The best offset smoker for you is the one that meets both your requirements and budget. Almost all the products in these offset smoker reviews provide ample cooking areas to cater to a large family and even some guests.
Make sure to take proper care of your smoker to ensure it lasts long. With time, you'll get better at it, especially maintaining the right temperature and managing the fire.